Moving toward new mobility solutions
Moving toward new mobility solutions
Rethinking mobility in the metropolitan area
With travel habits changing, the public is looking for simple, efficient and sustainable transit solutions to meet their diverse needs.
The choices for public transit services is increasing—for example, with the development of on-demand transport, the arrival of the REM and the advent of driverless electric shuttles. At the same time, alternative modes of transportation, such as bike and car sharing, are gaining popularity.
The public is faced with numerous transit options and consequently wants to make an informed decision, especially about his use of a private vehicle.
An international movement
In the Greater Montréal area, as in other major cities abroad, our communities face similar challenges, such as
Traffic
Growing vehicle fleet
Pollution
Urban sprawl
These perennial problems cry out for profound reflection and joint action by actors from all backgrounds. In terms of mobility, decision makers understand that investing in public transit is a powerful driver that generates structuring benefits for society as a whole, rather than a diversion of funds earmarked for the road system.
In recent years, many urban agglomerations abroad have implemented solutions to increase access to mobility services in their territories, ranging from traditional public transit (metro, bus) to emerging or alternative modes of transportation (river shuttle, driverless shuttle, car sharing, car pooling, taxi, cycling, etc.).
Promoting sustainable modes of transportation and improving mobility services for the entire public, no matter what their needs are, significantly contributes to healthier, more resilient living environments.
To learn from their experiences, the ARTM maintains regular communications with the jurisdictions that partially or fully deploy integrated mobility services or MaaS (Mobility as a Service).
Learn more about integrated mobility
An ambitious, innovative project
The ARTM received a mandate from the Québec government to implement an integrated mobility offering across its territory.
At present, no Canadian city has implemented this type of integrated mobility service, and the ARTM is proud to have undertaken this ambitious structuring project.
Learn more about the project and integrated mobility 
Informative video – Moving Toward Integrated Mobility Services
The ARTM and its partners, including Greater Montréal's public transit companies and the City of Montréal, are rethinking the way we travel with an ambitious project for integrated mobility as a service (MaaS). By creating a one-stop shop, the goal is to simplify access to sustainable mobility services offered on the territory and increase public transit ridership. Ultimately, the project will contribute to reducing the use of private vehicles and to achieving our GHG reduction objectives.
Balado – Et si on se déplaçait autrement? (in French only)
The integrated mobility concept prioritizes the public's interests in mobility solutions that have already been deployed in an area by integrating all travel-related services, including trip planning, mode of transportation selection, fare options and ticket purchasing and validation.
By consolidating various public and alternative transit offerings into a single, easily accessible point, e.g. online, smart phone or call centre, members of the public can consider and compare many travel options, based on their needs and preferences.
By leveraging new technology, data and stakeholder expertise from across the ecosystem, integrated mobility fosters a multimodal approach that allows the public to choose travel options and paves the way for developing emerging modes of transportation for more responsible private vehicle usage.
Project for a One-Stop Mobility Shop
Learn about the project's objectives
Mobilize the driving forces behind sustainable mobility ecosystems
Simplify usage of all integrated mobility services
Increase usage of public transit and alternative modes of transportation
Reduce greenhouse gas emissions
The simplified usage of integrated mobility services is part of the strategies in the ARTM's Strategic Development Plan for Public Transit (SDP).
See the strategies and action plan
*Only in French
Project partners
To complete this project, the ARTM has already been working closely with several municipalities, including the Ville de Montréal, public transit organizations and private transit operators.
Service offerings could be enhanced, and new emerging solutions could arise, from the participation of a wide range of active and alternative transit service providers, such as car sharing, taxi, on-demand transport and bike sharing, in addition to current project partners.
Get involved in the project
*Only in French
Project benefits for the public and the region
Access to a wider range of mobility options
Ability to make informed decisions based on their needs and preferences
Increased flexibility in meeting all travel needs across the Greater Montréal area
Simplified experience using an integrated customer journey
Trip planning integrating multiple modes of transportation (e.g. cycling, bus, metro)
Access to integrated fares and custom fares
Reduced traffic and improved mobility flow
Reduced GHG emissions and improved quality in living environments
Reduced losses in economic productivity related to road traffic
Stronger social inclusion from various mobility options accessible to all, regardless of financial capacity, geographic situation or functional limitations
Increased usage of public transit and sustainable modes of transportation
Synchronized service offerings
Optimized transit service offering and costs, particularly through data processing and analysis
Springboard for the emergence of new mobility actors, modes of transportation and innovations
Data governance
The implementation of a mobility ecosystem, under ARTM responsibility, that involves collecting and analyzing a large amount of data provided by multiple partners and network users.
In addition to strictly enforcing applicable privacy laws, the ARTM is working on implementing common data governance. In the interest of the common good, this would ensure that the data will remain residents' property at all times and be used solely for the purposes for which they were collected.
The ARTM is already assessing various potential governance mechanisms, including public data trusts.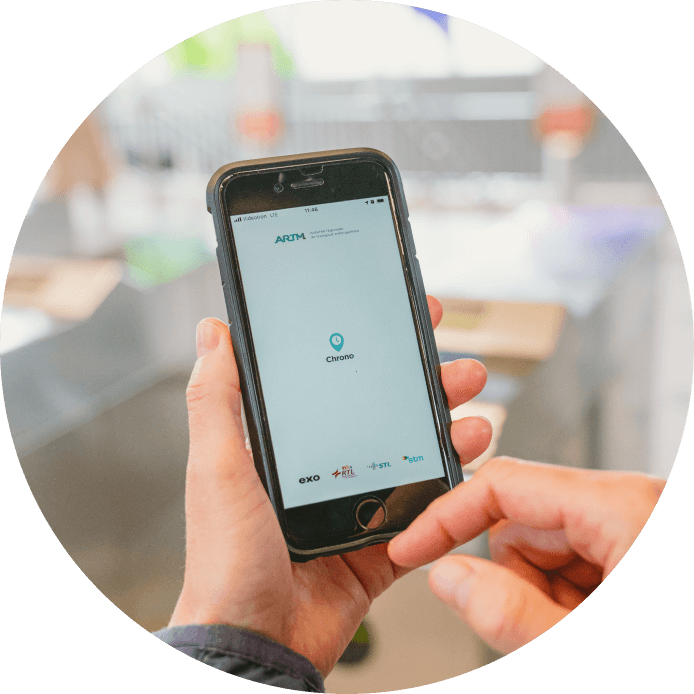 Chrono: the project's experimental platform
Property of the ARTM, the Chrono application was developed in Montréal in 2018 with the involvement of the region's transit companies. This application combines public transit services, active modes of transportation, such as cycling and BIXI and soon some alternative modes of transportation, such as Communauto FLEX.
Learn more
Montréal in Common, an innovation community
The Montréal in Common innovation community has made conducting experiments in the Chrono app possible thanks to the $50 million prize awarded to them by the Ville de Montréal as part of the Government of Canada's Smart Cities Challenge.
For these experiments to succeed, residents were encouraged to participate so that the Chrono team could develop optimal solutions addressing user needs.
Reading and reloading the OPUS card with a mobile app.
Progressive solution rollout and integration of several features